Started a new rc build. I had been wanting to weld up a full cage for the JK, but didnt want to cut out the roof and build an interior. So I found a used 1/10 TJ body on rcc classifieds and the build has begun. First of all in order to include the interior you have to eliminate the typical transmission location. I opted for a divorced setup from GCM and will use their motor mount as well.
Havent had much time to tinker with it, but here is a teaser pic with the body just sitting on the frame.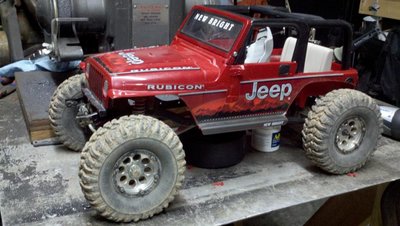 my tcase and motor mount should be here sometime this week, I need to decide whether I'm going to make the cage out of solid rod and mig it together, or brakeline and braze it together.