Hi all,
Sorry for the long post! I noticed a leak around my rear pinion in my 2003 Dana 44. After I pulled out the pinion yoke, I realized I needed to replace the yoke due to pits and grooves in the seal area. I ordered a new yoke using Dana Spicer part numbers, and when the part arrived, I noticed something strange. See below.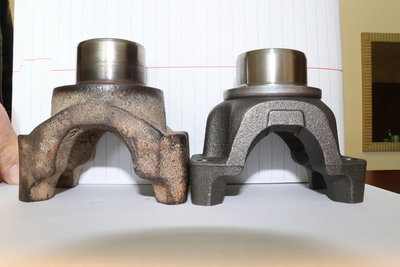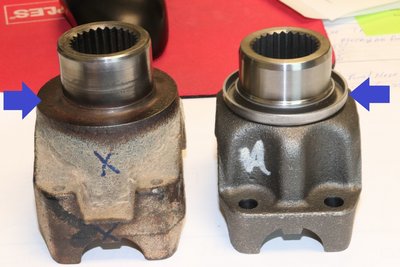 In the above picture, the old yoke that came off of the axle is on the left. The new yoke is on the right.
Notice on the new yoke, there is a "collar" attached to a shoulder on the yoke. The old yoke has no shoulder or collar. (See the Blue Arrows)
I made some measurements, and found some other differences.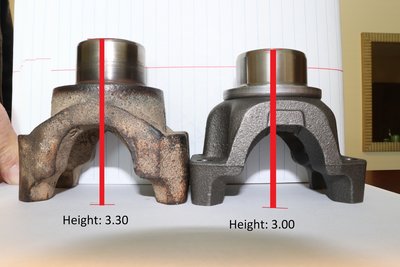 In the above, you can see that the distance from the bolt holes to the end of the spline is different on the two yokes. The old yoke (again, on the left) is 3.30, while the new yoke is 3.0. However, the height from the shoulder to the of the splines on BOTH are the same (0.97). Also, the collar on the new yoke is 0.25. See below.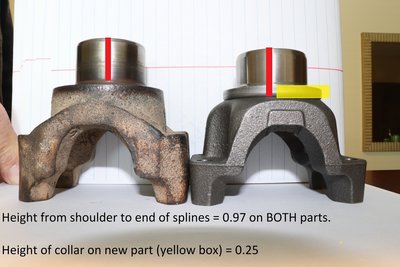 So, here's my question: If I install the new yoke and new seal, will the new yoke rub against the new seal and destroy it (via the collar)? If so, does anyone know where I can find a rear pinion yoke that matches the old yoke (as in, no collar)? Can anyone i.d. the old yoke or has one in good shape?
I've done a lot of research, and everything that I find looks like the new yoke, and I cannot find anything that looks like the old yoke that came off of the axle I have.
Any help or information on this would be greatly appreciated!
Thanks!