The first version of our offroad Teardrop treated us very well for 2 years, but lately I had been daydreaming of ways that I would do it differently if given the chance. Rather than retrofit the existing camper I found it would be easier to start fresh. Sooooo... I started drawing version 2.
There were a few things that I knew could be better. I wanted to address a few shortfalls of the first design:
MaxFan instead of Fantastic Fan.
Larger Door opening with the bottom even with the floor
larger storage area with bigger door for accessing rear cargo
front storage area inside in the front.
6" more headroom (for kids bunk)
This will allow us to store everything in the back of the teardrop or in the front box and not need to store things in the camper.
Here is a comparison of the old vs new.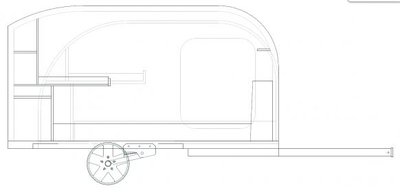 And here are the dimensions I have settled on.