This year GenRight is sponsoring all the Jeep Jamboree USA events across the US. More info here:
http://jeepjamboreeusa.com/
What's a Jeep Jamboree?
It's a full two-day, family oriented four-wheel-drive adventure that's probably unlike anything you've ever experienced. Jeep Jamborees cater to every level of expertise so they're fun for everyone – from novice to veteran and everyone in between. Any Jeep vehicle with a 4-LO transfer case can participate – that includes everything from showroom stock all the way up to highly modified rigs. Experienced guides help navigate you through scenic switchbacks and some of the most challenging off-highway situations you never thought your Jeep vehicle was capable of. And, perhaps best of all, you'll be meeting and making new friends along the way.
This year there will be 33 Jeep Jamborees and the first one was last weekend in Llano, TX. Tony Pellegrino and Corey Osborne from GenRight drove our Triton JKU from Simi Valley, Ca to Llano, TX to participate in this event. That's 1352 miles each way. Drive 1400 miles, wheel for 2 days and drive back. That's a road trip!!
click here for Triton info
. These Jamborees are great for GenRight because they're an opportunity to interact with a bunch of other Jeepers while really putting our products to the test. We were running the brand new Falken MTs on the Triton. Almost 3000 miles of highway driving with 2 days of tough Texas wheeling in between is a great test for the Falkens.
There were 300 Jeeps registered for this event and we heard the waiting list was 50+. If you're considering attending a Jeep Jamboree, you should sign up now!
On to the pics!
All lined up for the Day 1 runs: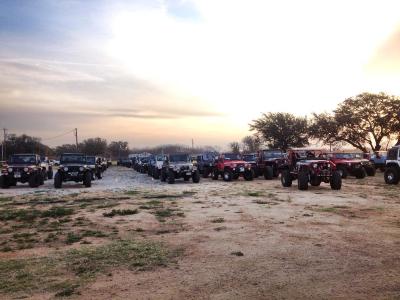 Tony said the wheeling was more challenging than he expected!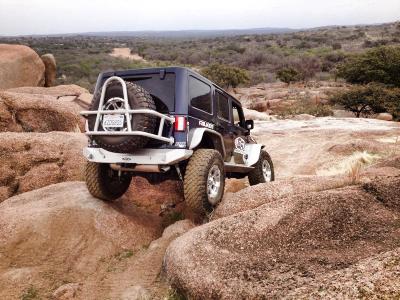 Our friends from SpiderWebShade there with their JK, "Shady":