We had been camper shopping for a long time. Back in Dec '19 we went to an RV show and looked at the No Boundaries line, but they didn't have a 19.3 at the show. The 19.3 was the smallest package I could find with a full length queen (murphy) and double bunks. In March, there was a show in Greenville and they did have that model, but this was right around the time the Covid Buzz was blowing up, so we didn't go. A few months later we went to Bob Ledfords in Greer to look at one, but by this point the market had gone crazy and prices were several thousand higher than months before.
We started looking around at other models with similar floor plans (Keystone Passport 239ML, Imagine XLS 21BHE), but with low inventory and high prices we hadn't purchased. About a month ago, I started saying I wish we would have just bought the 19.3 at the beginning of the year.
We went out to visit family in TX for a couple weeks and my search area changed. An IBEX 19MBH popped up for an unbelievable price. I contacted the dealer thinking they couldn't possibly actually have one, and they had 2. The closest to SC i could find was Tampa Fl and the salesman there said they couldn't touch that price. So, I called back a couple days later. They had sold one, had one available, and could schedule pickup the day before we were planning to head home. So, we put down a deposit over the phone.
The this is exactly the same floorplan and construction as the NoBo 19.3, but with all the upgrades that are extra on the NoBo, for cheaper than we would have paid for the Nobo over the summer. It has a 15k AC instead of 13.5, solar, camp kitchen, solid steps, etc.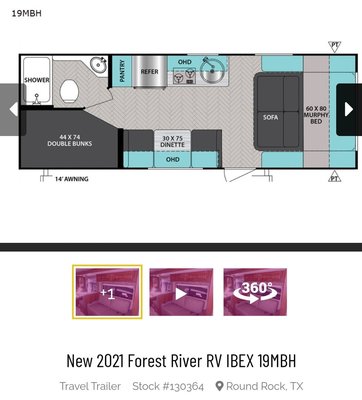 The dealer was PrincessCraft RV and was about 3.5 hours away from where we were. The original plan was to pick it up Friday (10-9-2020) and drive a few hours, camp in it, drive all day Saturday, camp, get home Sunday. We went to Walmart and bought sheets, pillows, etc, the essentials we'd need on the way home.
@Twilliamson
was kind enough to go by my house and gather a couple things to mail me (mainly my brake controller). Then tropical storm Delta turned into a Cat4 hurricane overnight, so plans changed.
Burgundy and I drove down and picked it up on Friday, leaving the kids with relatives. We were in her Yukon XL, and opted to have the dealer install a weight distributing and sway control hitch, knowing we'd be hitting some storms on the way back.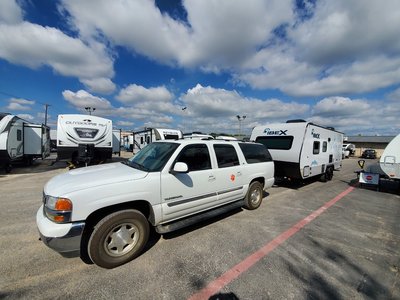 We got back to the relatives house and parked it on the curb in front of their house for the night.
Last edited: