What - Devils Backbone Scale Challenge
When - Sunday February 22nd, 2015
Where - Leesville, SC 29070 33.936324, -81.530383
Driver Checkin will be at 9am with a drivers meeting following
There will be a $5 entry fee per driver to cover Lunch. Bring your own drinks.
The event will be a Recon style event with 100 gates that will be traversed by 4 person teams. We encourage you so sign up as a group of 2 and you will be paired with another group of 2.
The course will consist of Technical Rock Crawling, wooded area, mud, and some water. Waterproofing is not mandatory but highly recommended.
We will be running Class 2 and Class 3 teams separately. Scores will be individual based on Gates.
SORRCA scale points will be in effect. We will be using scale points with a maximum of 60.
Basic restrictions:
No modifications between rounds, only repairs.
No motor limit.
No transmission limit.
No rear steer.
No dig.
Must be shaft driven.
Must look like a truck or other realistic vehicle. No XR-10 shells.
Must have a rail chassis similar to SCX-10. No twin-plate crawlers. Tubers such as the Wraith are allowed.
Winches recommended.
You'll also need tow ropes of some sort.
Tire Ban List:
Losi Claws (all sizes, and types)
Hot Bodies Rovers (all sizes)
Hot Bodies Sedonas
HPI Rock Grabbers
Panther Cougars
Panther Leopards
Pro-Line Chisels (all sizes)
RC4WD Rocklin
RC4WD X-Locks (all sizes)
RC4WD Crazy Crawlers
Imex Skulls and Bones
Losi Bashers
Special Thanks to KRAWL OFF-ROAD for Sponsoring this event!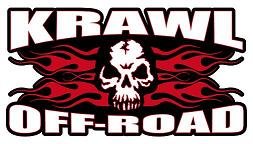 You can Sign up in this thread or on RCC. If you group yourselves into 2 man teams before hand it will make it much easier the day of the comp.
Class 2:
Bill
Brandon & Kim
Terry & Robert
Loon
Duxx
Broncin2
Brooks & Coleman
Jimmy & Joe
Larry
Oliver
ninjaxsniper420
Class 3:
TStephens & Jody
Cory
Sid & Jeremy
Tony
Marcus & Josh
Last edited: