I'm making this to document the changes we make to our property. I figure it will be cool to look back on one day.
This has been a long time coming for me. My dad had some land that had been passed down through my family for the last 250 years and the plots were getting to be pretty small over time. My dad bought his siblings sections of the land to make it a decent size parcel back near 2000. I have been interested in this land since I found out about it when I was in high school.
Emily and I have been talking since we met a few years ago about how awesome it would be to get out of the standard neighborhood house and have our own "compound", "homestead", what have you. When talking to my dad back in 2018 I found that he was going to be selling the land so that he could buy some other land nearer to his house. The tract was 12 acres, he wouldn't split it, and the selling price was out of my budget at the time, but I asked if he could wait a year before he sold it to see what I could come up with.
Well, the time was running out on that year last spring. I had paid off my student loans, jeep loans and other debts and after talking to him a few times we worked up a deal that got us both what we wanted. Sweet!!! Now we owned a small forest with a goat path down the middle and an old graveyard.
Now that sounded all well and good at the time because actually building on it was a pipe dream. But the low interest rates of the Covid summer of 2020 got us thinking. So we decided to start clearing for a driveway, and shop. We are still in the research phase of the project now, but hope to one day build a shop and then a house. Here is a picture of the entrance when we bought the place.
The Red box shows where the driveway will go in through the old roadbed eventually.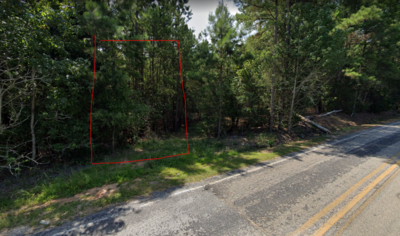 Last edited: