Ok, so maybe I splurged a little... But, I ordered them through Advance Auto with a discount code, and I had to spend enough money to get the full benefit of the discount code, right? Right.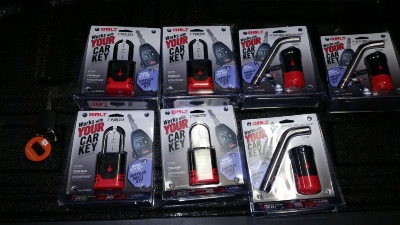 If you haven't heard of these, they are BOLT (Breakthrough One-Key Lock Technology) Locks. The manufacturer is one of the main suppliers for OEM key cylinders for the big 3 US brands. You order the version specific to your vehicle. The first time you turn your key in the lock, it "learns" your key. I bought all Chrysler locks and keyed them to my Jeep key. I always have a Jeep key in my pocket, but only have a truck key when I'm driving the truck. Also, I can get Jeep keys cut for $2 at the hardware store instead of the center cut GM key.
My 3 axis hitch needs two 5/8" pins and a pad lock to fully lock it up. So, I got enough for that and another 5/8" pin to keep in the truck. I have a piece of chain that I use to lock up trailers, doors, etc. on trips so I got a pad lock for that too. I planned to use the other two pad locks for the swing cases in the truck, but the shank is too long. So for now I have 2 I haven't programmed yet.
I also ordered a standard coupler lock, which came first. The lock cylinder in it looks just like the door lock of a TJ full door. I was a little concerned what the others would be like because the cylinder in the coupler lock was kind of gritty. But, the others came in today and they are very nice quality and smooth operation.