Well here is the new family ride.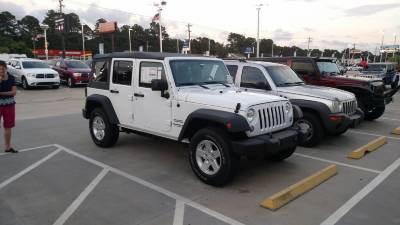 The wife was due for a new vehicle and she chose the JKU. We got an incredible deal on a 2016 JKU on the 4th of July.
Specs:
2016 Sport S
Auto w/ 3.73's
Alpine system (very impressed)
She had her heart set on a Sahara with color matched fenders, but we couldn't find one in the configuration she wanted without leather. So the dealership went beyond and offered a set of sahara flares at no cost. They are installing them this week.
This will be a moderate build as it is my wife's DD, but she has already picked out several things she wants done to it. I will try to update as we progress it, but it's nice to have another Jeep in the family. It will get a small lift, 33's, winch and bumpers at most for now. It's plan is to just be a fun vacation ride and be able to do smaller trips such as the poker run and etc.
I know nothing about JK's and I've been out of the Jeep loop for sometime, but I'm looking forward to having fun again!