What tools are you using in your shop, hand tools, fab stuff etc. Got a new tool to show off or that makes your life easier, post it up. Or if you have one you absolutely hate and people should not waste their money on, let us know! Storage ideas, anything shop related bring it.
Brooks showed me this one back in the day. Take two old u bolts and weld them together like an S and use as a brake caliper hanger. I used a coat hanger before this and the u bolts are a lot easier, can just slide one end in the frame and hang the caliper. I don't have a picture but heres one they actually sell with the same idea: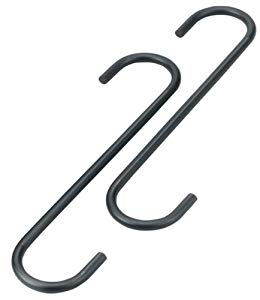 Also after breaking a ton of dana 30 shafts I found a use for them. My wooden handle snapped off my 3lb sledge. I cut off a 30 shaft and welded it to the head of the hammer. This thing is a beast now.
As far as tools I am still behind the times and using a Hobart 140 flux core, two dewalt angle grinders with cut off wheels, ghetto wood benches and not to much else. I am setting up my torches over xmas.
Anyone have any experience with this saw?
http://www.harborfreight.com/horizontal-vertical-metal-cutting-bandsaw-93762.html