So when we bought our larger RTT we had discussed possibly moving toward a small camper with walls. We loved the ease of use and easy towing of the M416 with RTT, but the sleeping arrangement was not optimal with our daughter. She needed somewhere separate that was still with us for now. I had always thought about a small teardrop, but I didn't think it would be any better as most just have a bed on the floor of the camper and some cabinets above. Then I got to thinking one night a few months ago about building a teardrop camper with a perpendicular bunk where the cabinets would be. I started sketching possibilities one night over drinks with the wife and we discussed that this might just be what we need.
At first I decided I would build it myself, but soon realized that designing it was easy, but my freetime is scarce these days. I started looking at camper makers around the US that make custom Teardrops, and I started looking for used teardrops that I could modify. I stumbled upon a few custom tear manufacturers that will pretty much build what you want. I contacted a few and decided on one in Cross Country Teardrops in NC. After talking to the owner for a few hours over a months time we hashed out all the main details.
So now we have decided on most of the options and details, but there are still some I'm trying to work out while they build the frame. Here is where I am.
My first designs involved an RV Queen Size bed, but after testing that size out with the wife we decided against it. I'm just too tall for that short of a mattress. For those that aren't aware, an RV queen is 75" long, its 5" shorter than a regular queen, and its used in many RVs and Campers out there. So all of my initial designs shown below had to be modified.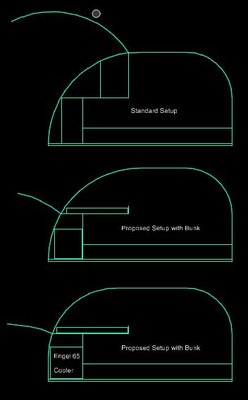 Then I realized that with the Bunk up there, there wouldn't really be a need for the rear galley area because the space is so small. So I decided to just use a small RV Luggage Door on each side to access the area.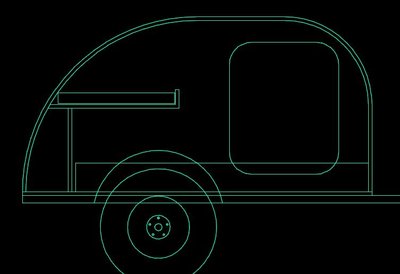 Another option is to have the area only open to the inside of the camper and just access it from under the bunk.
Or We could square up the back of the trailer a bit (losing some of the traditional teardrop shape that I love) and having a large enough flat space to add a long narrow RV door on the back of the camper.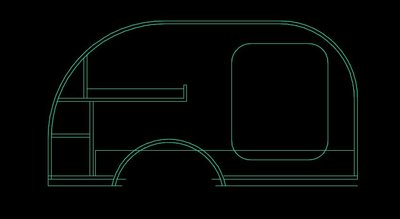 Or we could do a mix of both and allow access to this area from inside or outside.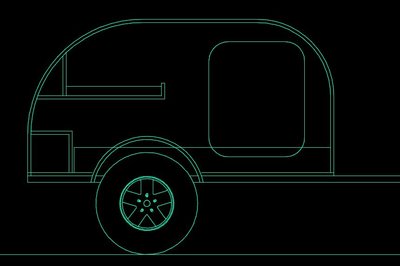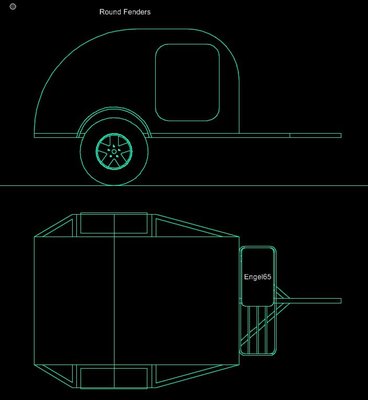 Obviously only having it accessable from the inside poses a few problems. One being you have to drag anything you want to store over your bed. It also means you have to reach under the bunk to access the stuff.
Last edited: