This morning I picked up a brand new, never sold, been in dealer inventory since 2006, Fleetwood Neon popup. I stumbled on to it while reading a thread on Expedition Portal about modifications to the Neon. After talking to the dealer and negotiating price, I decided it was too good to pass up. The only problem was, it was in Bath, PA! I got it cheaper than I've seen any used ones, and there were no used ones close either...
Burgundy and I left at lunch on Friday, drove to Allentown PA last night, and were at Harold's RV center first thing this morning. We picked it up and are currently at my cousin's house in Danville, PA. Tomorrow morning we'll start the 10.5 hour drive home, and both have to be at work Monday. I had the dealer check it over for me. We inspected tires, bearings, etc, but wish us luck!
Tow rig overkill, but no way I was driving the Jeep this far.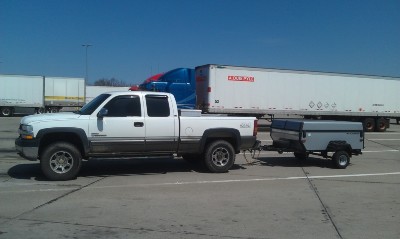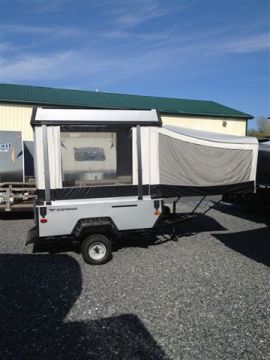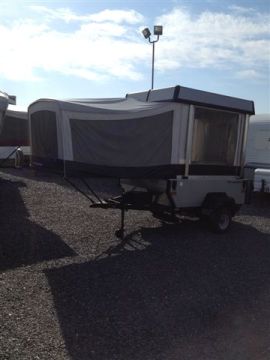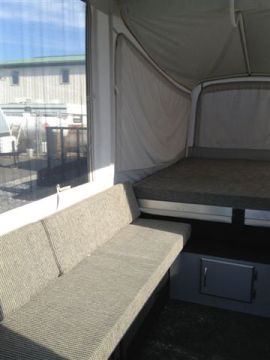 The Neon is a 6'10" box with one bed out the front (77" x 52"). Total width is 6'7", but the box is only about 4.5' wide. The wheels are completely outside the box, so it looks like it will be pretty easy to modify for larger wheels/tires. Dry weight is 950 lbs with a 90 lb tongue weight.
I plan to do a few convenience upgrades like battery on the tongue to power interior lights, 12V outlets, and possibly an inverter, and either a storage compartment or cooler on tongue. Eventually we will look into a small roof mounted heat a/c unit.
I'll have to look at it closer when I get home, but I hope to be able to run a matching pair of Jeep Ravines and 31" ATs on the camper. That will depend on how much modification I'll have to get in to with the fenders and leveling jacks.
Last edited: