As some of you from Mid-Carolina know I"m working with Chuck to refit the YJ I've owned for 31 years. The double rollover at Gulches sped up this build as the rear D35 axle or flange is bent...and it's not worth spitting at let alone fixing. The specs are:
1. 40-43" rubber
2. 4.0L, AW4 manual VB, AtlasII 3.8
3. Full width kingpin HP60, full width D60, 5.38, Spartans, 35 spline CroMo
4. 15" Motobuilt rear stretch for double triangulated
5. 3 link front with hydro assist...highway to trail
6. Zero approach angle F&R
7. Cutting brakes
8. PRPs and 5 points tied to DOM cage
9. Cut tunnel, rear fenders and floor to fit drivetrain, hoops and upper links...flat belly and full boat sides
10. DOM front hoop with tube fenders tied to frame
11. Fuel cell, no rear seat
12. Branik antisway if required
Working with Tony Pelligrino at Genright to make sure the extended WB won't be an issue with his bridge and brackets. I've asked for his design team to review roll center, instant center, antisquat and dive to make sure everything is sane before we burn it all in. They have a kit for a TJ to LJ stretch, so this shouldn't be a hairball for them. Final WB ~110", belly 19-21".
There will be parts to sell...I'll post them in this forum first, then the YJ FB page if no bites here.
One last look before surgery-yeah, I know the front boomerangs are wonked: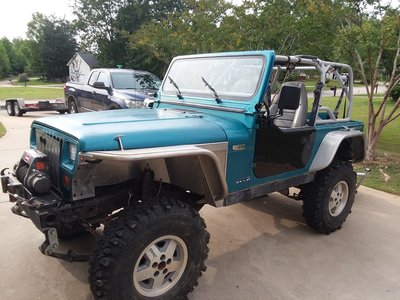 Last edited: