Picked this beauty up last weekend after seeing a few cell phone pics of it. It looked to be in decent shape, but needed a lot of love.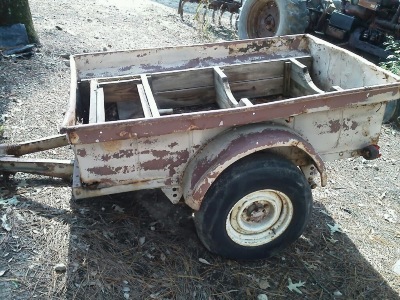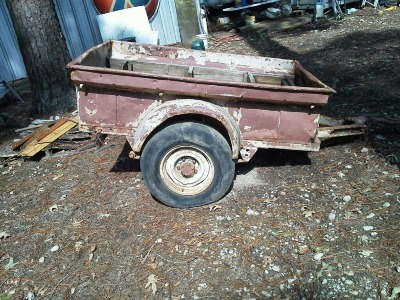 It had a wooden frame in it that had been used to hold a sprayer tank and you could tell the tub had been holding water for a good protion of its life, well that is until it couldnt hold it any more due to the rust holes.
It also looked like they towed this thing full of rip rap over washboard roads and slammed on brakes to fast at some point. The tub sides were all bowed out like santas bag of toys.
I started piddling with it sunday and was able to remove the lunette to clean it up and also used my dads kubota to lift out the old wood frame. That didnt happen quite so easily, it was really more like beat on the wood with a 5 lb sledge till it broke into a million pieces. Then lift the pieces out.
This thing has more holes than sheet metal, but it should work well for transporting stuff once I patch some of them. A collector would cry looking at how abused this thing was.
On the way home from his house I stopped by the pressure washer to see what some high pressure water could do to take off some of the nearly 70 years of paint. Turns out it took off most of the last tan layer to reveal the brownish redish color it had been painted at one point in its life.
It was at the carwash I noticed that the ID tag was still attached. Though bent and mangled because that corner of the tub looks like they used it as a jackstand for a tank. It was held on with one half of a rusted rivet so I pulled it off and took it in the house.
I was able to clean up the data tag last night and found the numbers.
its a Bantam T-3
Serial number 954
Date of delivery 7-10-1945 or 46 I cant tell.
The data plate looks like this, but in much worse shape.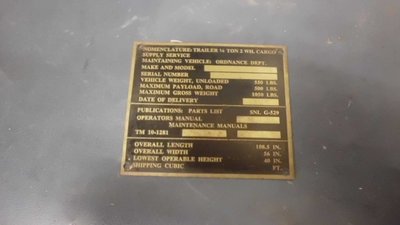 The trailer has been painted at least 6 times from what I can tell. One of those times it was bright Orange and another Bright Red.
My plan is to fix most of the holes and get rid of as much of the rust as possible. The plan is for it to make a good utility trailer. Ever since I put the lid on my M416 trailer its just not as good at hauling big stuff around because it takes two people to remove the lid and tent. This trailer should solve that problem perfectly.
Plus there is just something about putting some old iron back on the road. When I was pressure washing the paint off this thing it got me thinking of how many people have probably worked on this thing. More updates to come.